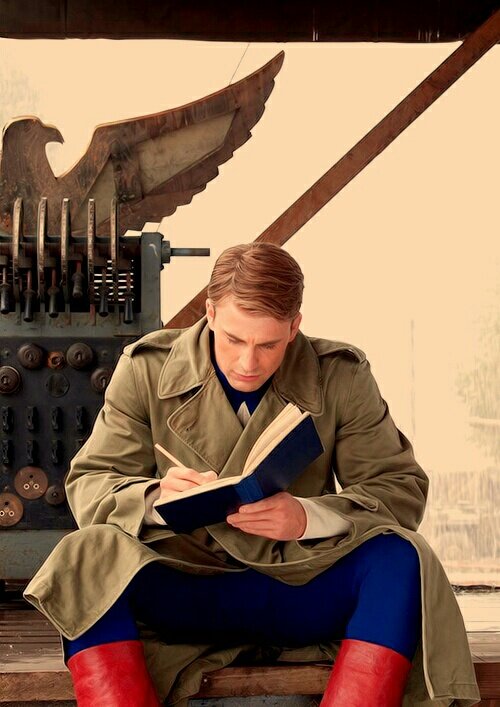 Hi everyone, it's me, Captain America. Loki forced the job of truth or dare into my hands this week, and while I'm not one to force a dare on anyone, I generously offered a choice between truth or dare to one of my favorite authors of all time (yes, that's all the NINETY years I've been alive, frozen or not): Beth Revis.
For those of you who haven't been following since the first Truth or Dare - this is a feature we have on various Friday's, where we ask authors and publishing industry professionals to choose between Truth or Dare and answer the prompt.
Beth Revis, as you all should know, is the author of the famed ACROSS THE UNIVERSE trilogy - the third book, SHADES OF EARTH, released in January and was celebrated by launching a copy of the book into space. Yes, into space. I didn't even know things could be sent into space - human or otherwise. But as Thor mentioned to me, space is simply extra space filled with sparkly stars and pathways to other 'realms'. Yeah, I believe you *snort*.
Before I hand over the post to Beth Revis, here's a little bit about the author-extraordinaire herself.
Beth Revis is the author of the NY Times Bestselling Across the Universe series, published by Razorbill/Penguin in the US and available in 17 countries. The first book in the trilogy, Across the Universe, is a "cunningly executed thriller" according to Booklist, and the second book, A Million Suns, was hailed by the LA Times as "a fast-paced, action-packed follow-up." The final book of the trilogy, Shades of Earth, will be released in early 2013.

A former teacher, Beth lives in rural North Carolina with her husband and dog. Her goals include travelling around the world in 80 days, exploring the moon, and finding Narnia.

Beth is represented by Merrilee Heifetz at Writers House.
Find Beth:
Twitter
|
Facebook
|
Goodreads
|
Blog
|
League of Extraordinary Writers
|
Amazon
So, Truth or Dare, I asked Beth, to which she humbly answered: Truth.

The Moment of Truth:
Tell us, Miss Revis, which is the most embarrassing book you've ever been obsessed with.
Growing up, my chief source of books was my local library. And while I loved it and appreciated it, it was sadly lacking in good books for anyone older than a picture book level and younger than boring literary fiction. The teen section was one (very small) wall in the back. There were a handful of good books.

And dozens of Sweet Valley High.

I'm not saying that there was high quality stuff--I remember there being a large representation of Babysitter's Club, too--but even as a kid, I knew that SVH was about the fluffiest thing I could possibly read. And I couldn't help it at all. That shizz was addictive!

And I read them *all*. It's like they were meant for me. There was a girl named Elizabeth (like me!) and she was a nerd (like me!) and blonde (like me!) and hot and rich and with lots of boyfriends and super popular (and not at all like me, but still). I still remember that time Jessica joined a band and named it NRG (for "energy," get it? GET IT?). And the Jeep Wrangler? And the KISSING?

But here's the thing. Even as a kid--and up through my teen years--I was pretty much Hermione Granger. I was the nerdy girl who prided herself on being smart. (I was also incredibly annoying.) And therefore, I had a reputation to uphold.

I hid my SVH books behind textbooks.

I was that much of a nerd.
*sits back*
Now that wasn't so hard. I think I was sweating about this more than she was. Like I said, I'm not a fan of forcing a question upon anyone, but for once, I'm a little glad Loki made me takeover this week's Truth or Dare post. And who on Earth is Hermione Granger? I have to look that name up on that searching website, what's it called again? Oh yeah, Google.
Who's next?